11 Jul

VolumeCases offers 1:1 Chromebook and Pilot Program Deployment for Students in K-12 School Use

Deciding on a case for your 1:1 Chromebook deployment is made easier with the variety of student cases and covers offered by VolumeCases. Customized with a school logo.

Students from everywhere throughout the world are utilizing more than 11 million Chromebooks. Subsequently, there emerges the requirement for strong and defensive Chromebook cases. Especially custom fitted Chromebook case for school utilize is made accessible to students through VolumeCases. VolumeCases offer Chromebook cases with customizable logos and 25 color options. These cases are said to be perfect for education, school, and K-12 utilization.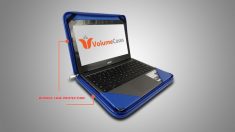 The VolumeCases company highlights Zip, Bubble II and Tote Case. Makers ensure that these cases are sturdy and go about as a security for Chromebook. The site says, "We give numerous customization choices from case plan, material, and shading decisions, to logo arrangements, all conveyed on time and inside spending plan."
The Chromebook case for school utilize is intended to withstand every single conceivable annihilation. Cases are also available for corporate and Fortune 500 use. Clients can browse premium quality Chromebook cases of various hues and surfaces. Logo position choices are likewise offered to customers from this online store.
Clients can secure their Chromebook speculation with the assistance of these altered cases. Schools have choices of cases and cover that are made specifically to client needs.
About Volume Cases
A leading provider of custom Chromebook, Laptop and MacBook cases for the K-12 education space. Our best-of-breed cases and covers are designed for student use and the ultimate in Chromebook protection.
Volume Cases has successfully deployed over 500,000 cases in 400 schools and districts in all 50 states.
Offering 25 custom case colors, school logo embossing and a variety of case choices, Volume Cases is the one stop source for Chromebook, laptop and MacBook cases.